The Hawaiʻi Workers Center is in partnership with One Fair Wage in the fight for the elimination of sub-minimum wages for all restaurant and tipped workers.
Do you believe restaurant workers and tipped workers in Hawaiʻi deserve fair pay? Join the fight for One Fair Wage as a volunteer.
One Fair Wage is a national organization of nearly 300,000 service workers, over 2000 restaurant employers, and dozens of organizations nationwide all working together to end all subminimum wages in the United States and improve wages and working conditions in the service sector in particular. One Fair Wage policy would require all employers to pay the full minimum wage with fair, non-discriminatory tips on top, thus lifting millions of tipped and subminimum wage workers nationally out of poverty. – One Fair Wage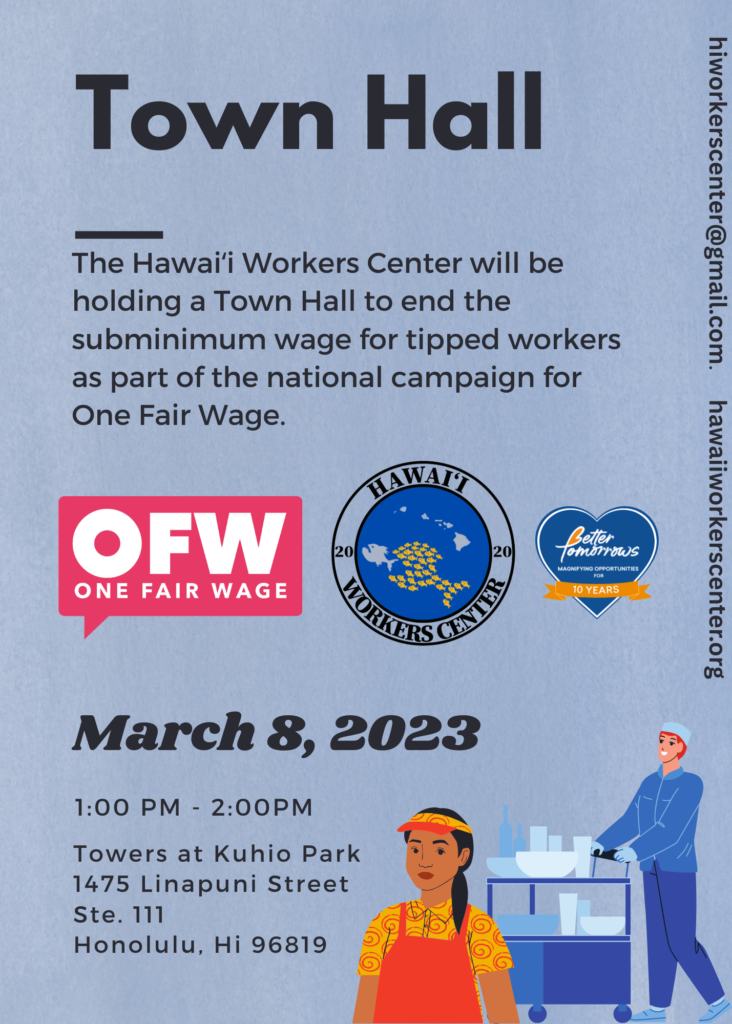 Join the Hawaiʻi Workers Center for our Town Hall meeting on March 8th! Let's end the tip penalty once and for all.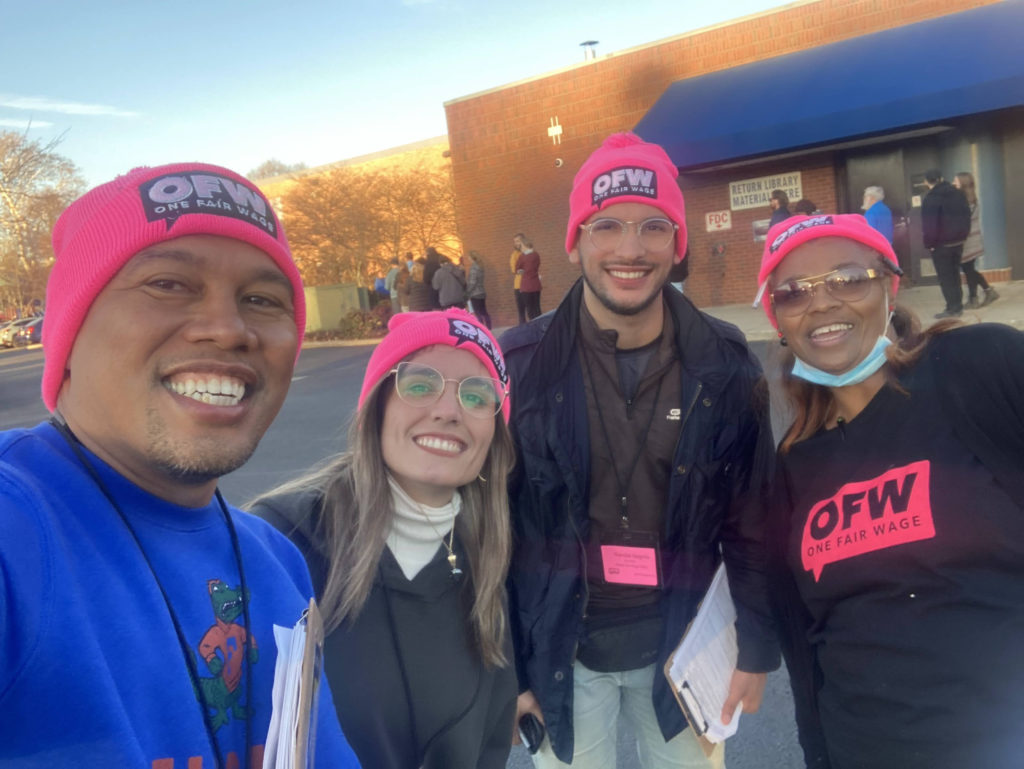 Hawaiʻi Workers Center co-executive director, Sergio Alcubilla joined the One Fair Wage campaign in Columbus, Ohio in their ballot initiative signature drive to end the sub-minimum wage for tipped workers. Celebrating the recent victory in Washington D.C., the One Fair Wage campaign and Hawaiʻi Workers Center are working together to bring wage justice for Hawaiʻi's tipped and low-wage workers.

New York Times Exposé:
On January 17th, 2023 authors David A. Fahrenthold and Talmon Joseph Smith published an exposé on the National Restaurant Association, colloquially known as 'the other NRA' due to their unrelenting support for policies that hurt the public. The New York Times article explains how many food service workers nationwide are mandated to take a food safety course before working in a restaurant. A company known as ServSafe is one of the major providers of these courses. The authors reveal:
"The company they are paying, ServSafe, doubles as a fund-raising arm of the National Restaurant Association — the largest lobbying group for the food-service industry, claiming to represent more than 500,000 restaurant businesses. The association has spent decades fighting increases to the minimum wage at the federal and state levels, as well as the subminimum wage paid to tipped workers like waiters." – Fahrenthold and Smith 
Just Safe Food. We encourage any workers in need of their food safety training certificates to divest from ServSafe and choose the worker friendly alternative, Just Safe Food.