We are currently working on building a Filipino Workers Association! For more information, reach out to our Filipino organizer: Nelson Salvador at (808) 339-5822 or nelson@hawaiiworkerscenter.org
Read about Nelson's recent work with HWC!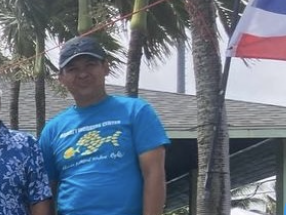 Nelson John Salvador is the Filipino Organizer for the Hawaiʻi Workers Center. Born and raised in the Philippines, he moved to Hawaiʻi island in the year 2020, where his mother was based. Prior to his move to Hawaiʻi, Nelson was a prominent community organizer in the Philippines, where he worked with the marginalized sector of farmers, workers, fisherfolks and indigenous people in the northern part of the country. Nelson began his role at the Hawaiʻi Workers Center in March of 2023 with the intention of organizing Filipino workers in Hawaiʻi to build the Filipino Workers Association. 
One of Nelson's most recent victories with the HWC occurred last month after a Filipino worker reached out to the Workers Center after unjust termination from her job. After being referred to the Hawaiʻi Workers Center by a trusted friend, the worker was invited to the office where she met with Nelson and Tony Doroño, HWC Founder and former Co-Executive Director. To respect her privacy and keep her anonymous, we will be referring to this worker as Michelle, under a pseudonym. Michelle explained that she worked at a prominent gasoline corporation on Oʻahu. One day, her manager asked her to clean a gas canister. She respectfully refused the task after explaining that, as per her doctors' order, she should stay away from gasoline fumes because of her nostril sensitivity and allergies that she had developed.
On the spot, her manager and the HR person fired her.
"I am dumbfounded. The world closed down on me, why is this happening, after having been a loyal and good employee in the last 8 years! I was blank, I just walked away from the premises until I reached a park nearby."
Shortly after, her boss found her and asked her to sign a document that, to her recollection, would allow her to receive unemployment insurance.
This is a classic case of unfair labor practices for non-unionized workers. Being in Employment at Will terms of employment thereby gives employers the prerogative to terminate employment with or without cause. But, the employment agreement might give something as a handle to which a case can be built. HWC asked her to produce the employee handbook, if Michelle remembered signing one when she was hired, to which she responded positively. Discussed are the possibilities that she was wrongfully terminated and that she should have been given accommodation due to her medical situation. To her advantage, the handbook clearly contains provisions on accommodation being given on health matters. She was prodded to seek an audience with her employers by communicating to them that she believes she was wrongfully terminated and that she seeks clarification.
With talking points Nelson helped her outline, the talk was held. Hearing her arguments, her employers told her that she was not fired to begin with. Michelle not only got her job back, but the company provided back pay for the time she was left without a job.
"I realize this could happen to friends in my workplace and in other workplaces. I need to share my experiences to them." Michelle sighed in a meeting after being reinstated.
Indeed! A major takeaway from this situation is that workers everywhere need to be aware of their rights. Once she knew that the employee handbook protected her from this exploitation, she was empowered to advocate for herself and therefore get her job back. Employers rely on workers not knowing their rights, and armed with this knowledge, workers can fight back against this exploitation.
Nelson notes that gratitude and debt of gratitude are significant in Filipino culture. So much so, that sometimes Filipino workers tolerate some level of abuse because of gratitude to have the job in the first place. Nelson articulates that this might be a direct result of the painful legacy of colonization (400 years by Spain, then by the USA) in the Philippines, indoctrinating Filipinos into thinking they should be grateful for them. Through education on workers rights, ideologies like this can be dismantled and a Hawaiʻi in which all workers are empowered to fight for their wellbeing can be ensured.
This is just one exemplary instance of Nelson organizing the Filipino community here in Hawaiʻi. He will continue working towards the inception of the Filipino Workers Association and conducting Know Your Workers' Rights trainings with the community. Get in touch with Nelson at nelson@hawaiiworkerscenter.org to get involved.