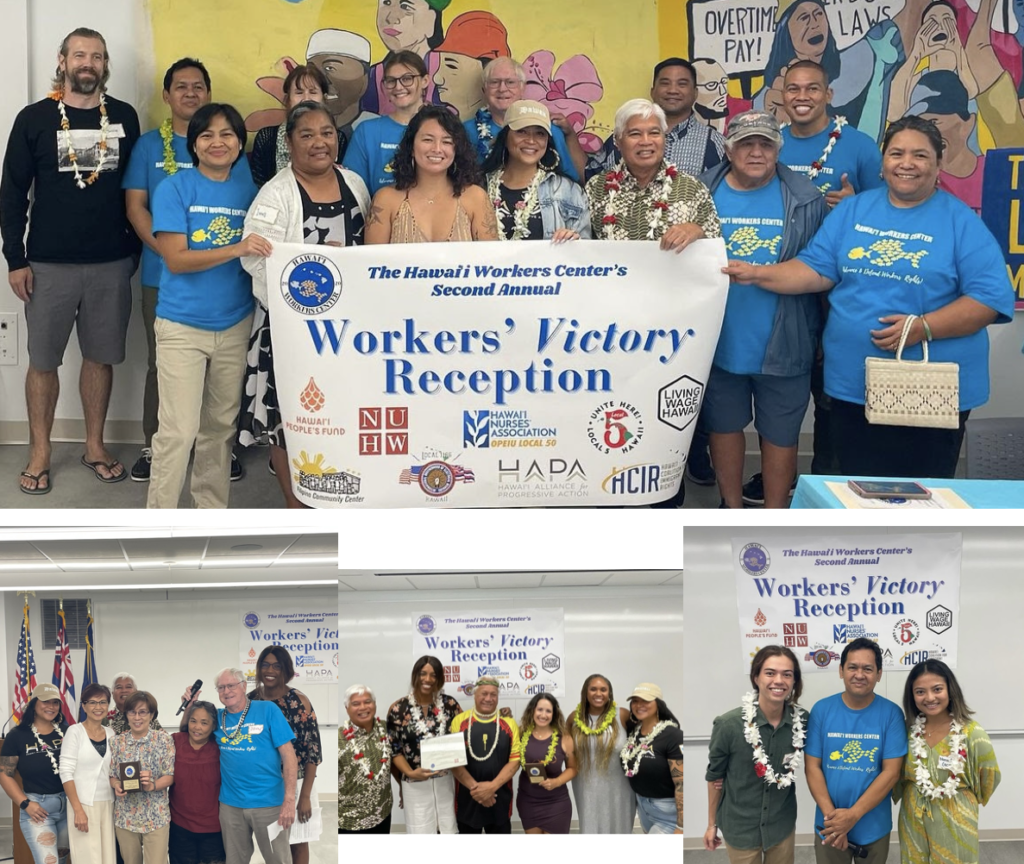 The Second Annual HWC Workers' Victory Celebration Recap
Mahalo to everybody who joined our Second Annual Workers' Victory Reception on Friday, November 17th, where we celebrated the recent victories of the labor movement in Hawaiʻi while also acknowledging the challenges ahead. It was a beautiful evening of solidarity shared with workers and community partners alike!
We proudly honored the Hawaiʻi Nurses Association (HNA) OPEIU Local 50 and the National Union of Healthcare Workers Hawaiʻi (NUHW) with the Healthcare Heroes Award for their victories this past year.
"The Hawaiʻi Nurses Association OPEIU Local 50 continues to fight for better contracts for its nurses, case managers, and nursing assistants," HNA President Daniel Ross shared.
The National Union of Healthcare Workers was recognized for its tireless efforts in its 172 day strike against Kaiser Permanente to improve their mental health system and better treatment for their mental health clinicians. The strike was the longest mental health strike in US history.
Better Tomorrows, based out of the Towers of Kuhio Park, was honored with the Outstanding Community Partner Award for its partnership with us and for giving HWC a home at our office also based out of the Towers of Kuhio Park, a large public housing development in working class Kalihi on Oʻahu.
We also announced the launch of our newest workers' association, the Restaurant Workers United as part of the national One Fair Wage campaign, which will organize to eradicate the subminimum wage/tip penalty along with other workplace issues affecting Hawaiʻi's restaurant workers such as wage theft.
Senator Kurt Fevella delivered the keynote speech sharing, "Everybody said we cannot raise the minimum wage, the cost of living will go up. Hello, it already went up and our minimum wage and tipped workers are getting robbed by the state. No more excuses, we have to call it what it is, it's rip-off robbery, we're robbing the people and it's hurting them."
Mahalo to our amazing sponsors and community partners, including individuals and grass roots and labor centered organizations. Thank you to the Hawaiʻi People's Fund, the Filipino Community Center, Unite Here Local 5, the Hawaiʻi Alliance for Progressive Action, the National Union of Healthcare Workers, Hawaiʻi Coalition for Immigrant Rights, Living Wage Hawaiʻi, Hawaiʻi Children's Action Network, and IBEW Local 1186 for their support.