---
Reach us by email at mauitenantassociation@gmail.com
Resources:
Rental Assistance – Mediation – Talk Story – Find a Rental
Renters Rights Training – Renters Rights Activist Training – Legal
---
With exorbitant rent increases becoming "the norm," people afraid to complain about deplorable living conditions—due to the risk of losing their existing dwellings and the severe lack of affordable rental inventory as a whole, the term "priced out of paradise" has become a stark reality for many of Hawai'i's long term residents.

Now, a group of tenants in Maui County is banding together to fight back. The newly formed Maui Tenant Association (MTA) held their first Talk Story event on Tuesday, March 7th at the Haiku Community Center at 5:00p.m., with free dinner and childcare provided. The next will be in June and September on different parts of island.

The March talk story was facilitated by Nara Boone, Jordan Hocker and Alan Lloyd with the purpose of informing local renters of their rights, hearing their challenges regarding evictions, continued increases in rent, lack of upkeep/safety/quality living conditions, etc…and brainstorming solutions as a collective.

Maui Tenants Association's intention is to gather as much information as possible from local renters, including Kupuna, those with special needs/ambulatory issues and non-English speakers—along with solutions, and take the information to our elected officials for permanent change and improvement.
An AARP/Statista analysis of homelessness and evictions in Hawaii estimates the number of evictions and homelessness among kupuna peaked last year with 1,272 evictions and 1,683 homeless kupuna 55 and older. This year close to 1,000 kupuna age 55 and over are expected to be evicted and more than 1,500 are expected to experience homelessness in Hawaii.
"I stressed not able to pay my rent and bills. I have just Social Security income and health problems. I am 73 years old and have no family to help. I wish politicians would find way to help people like me."

-Natalya, Hawai'i Resident, When asked to tell us what they would say to politicians about what it's like to live in their shoes.

The Maui Tenant Association as a membership organization is developing policy proposals for legislative action, conducts trainings on worker tenant rights, and staffs a hotline for renters. Call 808-444-1119 for information and to activate yourself.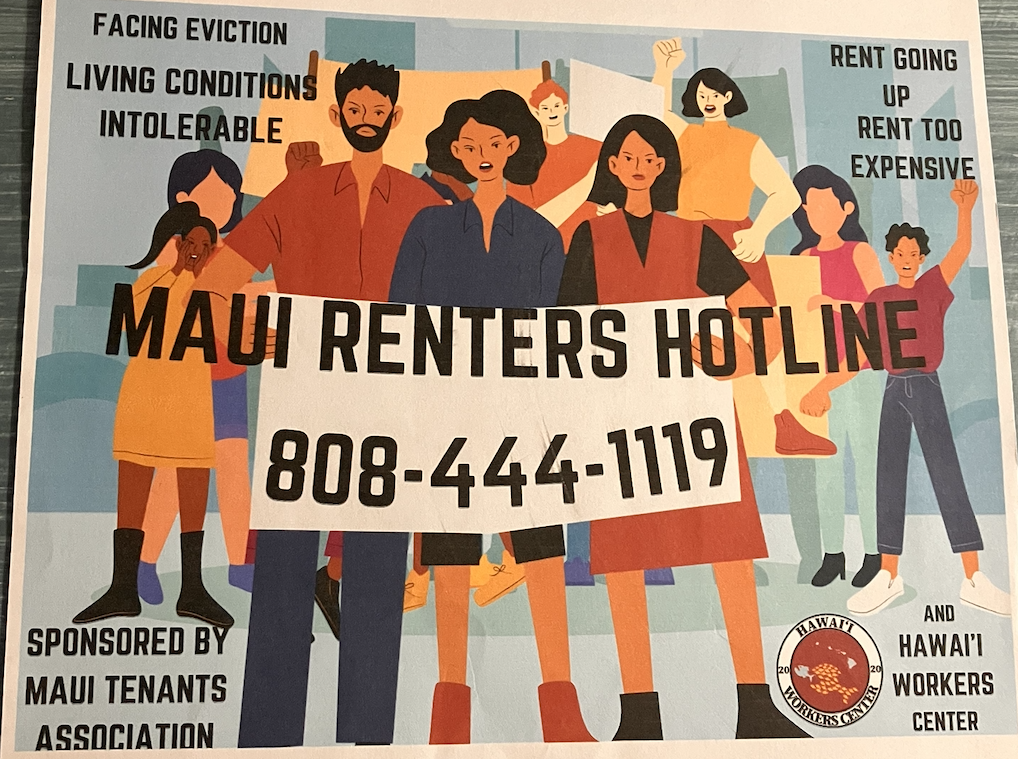 Images from our Haiku Talk Story Event.